Igor's Walkabout |Frank Scott & Nisa Montie
A Courageous Cockroach Goes Abroad.
Nisa Montie and Frank Scott have written a great adventure featuring the intrepid character of Igor.
Although he had many friends, he barely joined in the conversation with any of them, being a generally silent fellow. The exception was his Uncle Potoski. Uncle Potoski was a kind fellow who loved to share. He was a story teller, and Igor was the perfect audience!
"Igor, always be careful!" There are eyes out there that see you, but you cannot see them. Remember what happened to Aunt Olevski …."
Always preoccupied, Igor would bow and nod his head, as if in agreement.
His uncle would continue to tell him stories of various friends and relatives who, neglecting Uncle Potoski's sage advice, had acted carelessly in one way or another.
Get This Great Adventure Story From Nisa Montie Today!
Igor's Walkabout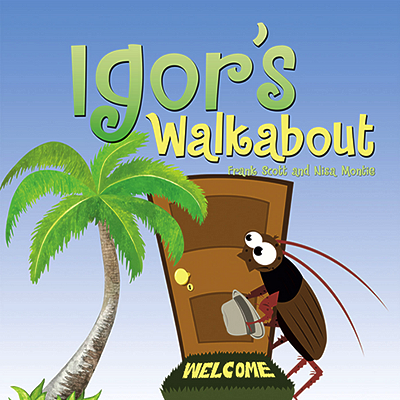 One afternoon, Igor, the eccentric cockroach adventurer, leaves his palm tree and family to visit the Big House. Despite Uncle Potoski's warning—and owing to a kind deed—Igor arrives home with a very sweet treasure. Laugh with your preschooler by sharing this amusing, whimsically-illustrated tale of an unlikely hero.
Purchase