Fly, Fly, Louie Louie – Moral Story for Kids
In This Amusing Illustrated Tale for Pre-Schoolers, A Blue Cat Learns You Can Only Be Yourself
Lady Iris, the seagull, appeared. She seemed worried, saying,
"Louie Louie, please don't try to fly from those mountain tops."
"Why not?" responded Louie Louie.
"Because you forgot your wings," urged Lady Iris, knowing full well that Louie Louie would look behind his back and change his mind.
"I see," answered Louie Louie. "I guess I have to go back and get them."
"That's right," agreed Lady Iris, feeling relieved at her friend's response.
"See you later," mumbled Louie Louie, turning back to the Nanimba valley again. to try flying by pouncing and hopping like a rabbit.
Crossing a creek, he noticed his old friend Sulamantra. The engineer beaver was chomping away at a tree branch, as he readied it to fit the enclosure of his home.
"hey, there," Sulamantra inquired. "Anything new?"
"Nope!" answered Louie Louie.
"Still trying to fly?" asked Sulamantra.
"Yep!" responded Louie Louie.
"Perhaps flying is not your thing?" queried the practical beaver.
"Perhaps…." Louie Louie responded.
"Well, got to go," Louie Louie insisted, leaving his friend to his chores.
Fly, fly, Louie Louie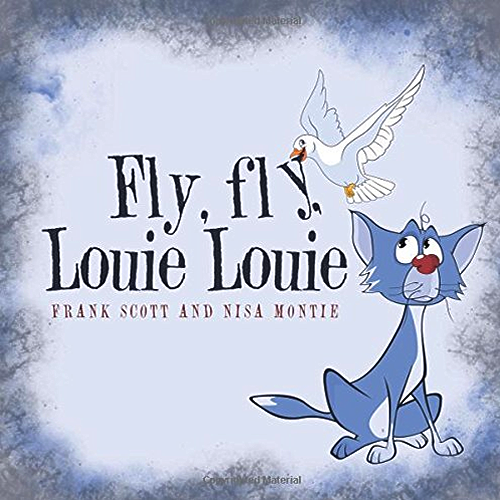 Louie Louie is a crazy blue cat who wants to fly. All his friends, from Nick the Salamander and Solo the turtle, to the pig musical trio Uno, Oink, and Zito, are worried. After a harrowing trip pouncing and bouncing up the mountains of Nanimba, and a helpful warning from Lady Iris Seagull, he decides to be… himself. Lively fun animal illustrations animate this tale teaching pre-school and kindergartners about self-acceptance.
Purchase