How Alexander the Gnome Found the Sun – Clearwater Children's Books
Finding the Light, Alexander Enjoys a Day with New Nature Spirit Friends
Thin green poles with bobbing heads and colorful wavy hair smiled at him. Through the moving air, they tossed him beautiful, sweet smells. They were the Flower Fairies, with their stem bodies and flower heads. Behind them stood huge, silent, and graceful Tree Spirits, with whispering fringe robes. They blended into thick, rough trunk bodies and waved their many branching arms and leafy green hands.
Alexander waved and smiled back, then headed towards a gurgling forest stream.
Above it he saw tiny, glittering creatures with skinny bodies, big round eyes, and four elongated wings – dragon flies! On top of each one, as if riding an amazingly agile horse, was a tiny fairy in a silver-beaded outfit that reflected the moving light.
"Hello!" Alexander called to them, and they waved their tiny wands at him.
Now, although he didn't know it, Alexander had popped up on the top side of the Earth's skin when morning had just begun.
How Alexander the Gnome Found the Sun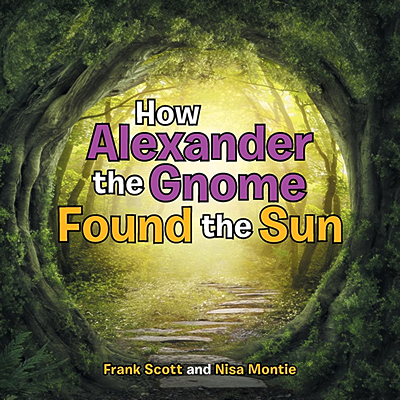 By digging upwards, Alexander finds the world above where the sun rises and sets, and new friends come to welcome him: Flower Fairies, Tree Spirits, Dragonfly Riders, Kurt the Rock Gnome, and the beautiful lake fairies who touch his heart—Staria, Latia, and Selene.
"Evening Fairy Song
`You have come up from the Underground To see the Sun-bright world….
We bless you on your Gnome Home away. Come back again to dance and play.' "
Purchase